Chairman
Dr Seamus O'Hickey has been appointed Chairman of the Expert Body. His appointment was announced in the Dáil on the 7th April 2004 by the Minister. Commenting on the appointment the Minister stated that". Dr O'Hickey's mix of scientific knowledge, awareness of fluoridation issues and experience of administrative issues leave him well placed to chair the Body".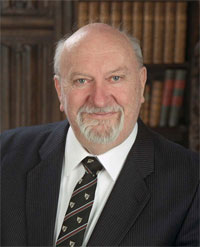 Dr Seamus O'Hickey - Chairman Dr O'Hickey is a Senior Lecturer in the Department of Public and Child Dental Health, School of Dental Science, Trinity College, University of Dublin. He is former Chief Dental Officer, Department of Health and Children, Dublin. Until recently he was Editor of the Journal of the Irish Dental Association. Dr O'Hickey brings a wide range of expertise and experience, national and international, to the Chair of the Expert Body. Throughout his career, he has held a number of high level positions including consultancies to the World Health Organisation, the World Dental Federation/FDI and in Health Services Management at the Department of Health and Children in Ireland.
His former roles include first President of the Section on Public Health of FDI, President of the Advisory Committee on Training of Dentists for the Commission of the European Union, first President and later Secretary of the Irish Division of the International Association for Dental Research. His memberships have included the Pierre Fauchard Academy, the Irish Dental Association, the Joint Committee (of the Royal Colleges) on Higher/Specialist Training in Dentistry, the Postgraduate Medical and Dental Board, the Dental Council of Ireland, the Council of European Chief Dental Officers.
His academic qualifications include Bachelor of Dental Surgery of the National University of Ireland, Master in Public Health of the University of London, Diploma in Public Administration of the Institute of Public Administration in Ireland and Fellow of the International College of Dentists. He has more than 40 scientific publications and he is a contributor to a broad range of textbooks in his related fields.